Jupiter, Florida is a great beach town in south Florida but I feel like it's one of those 'if you know, you know' places. It is certainly a smaller town but it has a lot of great places to check out. Most importantly: the beaches in Jupiter, Florida.
It has a lot of outdoor areas which is one of the main reasons my husband and I love it. There aren't too many high rises, no big downtown areas and not too many chain restaurants. It does have a ton of parks, picnic areas, walking trails, etc.
I do think if you're just driving through, you might not really know where to go or what to do (check out this post for help!). It is very much a relaxed vibe. The beaches and outdoor restaurants are where many people spend their time.
You won't find white sand beaches here. You'll need to go to the panhandle or the gulf for that. The sand is more of a mixture and can look pretty dark at times and more gritty than powdery if we're being nit-picky.
Side note: Before you look at the pictures below and say, 'oh that one's the prettiest', just note that the water color is constantly changing. Some days it's insanely blue, other days its brownish. They can all be pretty, they can all be not so pretty. It just depends on the day and weather.
Here are the different beaches in Jupiter, Florida to check out:
Jupiter Beach Park
Jupiter Beach Park kind of looks like a little cove. It's a rounded beach right next to where the Jupiter Inlet meets the ocean. You can walk to the edge of the fishing pier to watch the boats come in. And if you follow the path back along the inlet, you'll reach Dubois Park, another popular spot for people to hang out.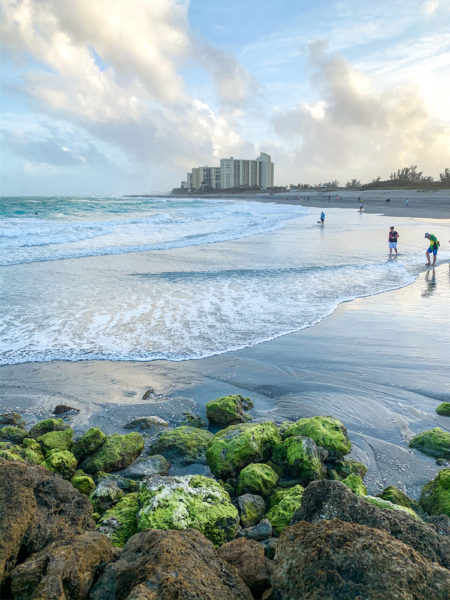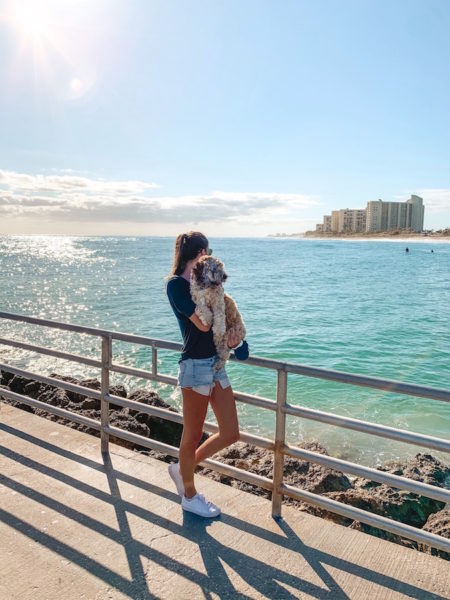 The beach here is a little wider than some of the other areas you can go to, but still not that wide.
The cool thing about this area of the beach is that there is actually a beach cam where you can check the ocean conditions online before going. I was checking the cam for water color and when I saw a particularly pretty ocean day, I hopped in the car with my drone to get this shot: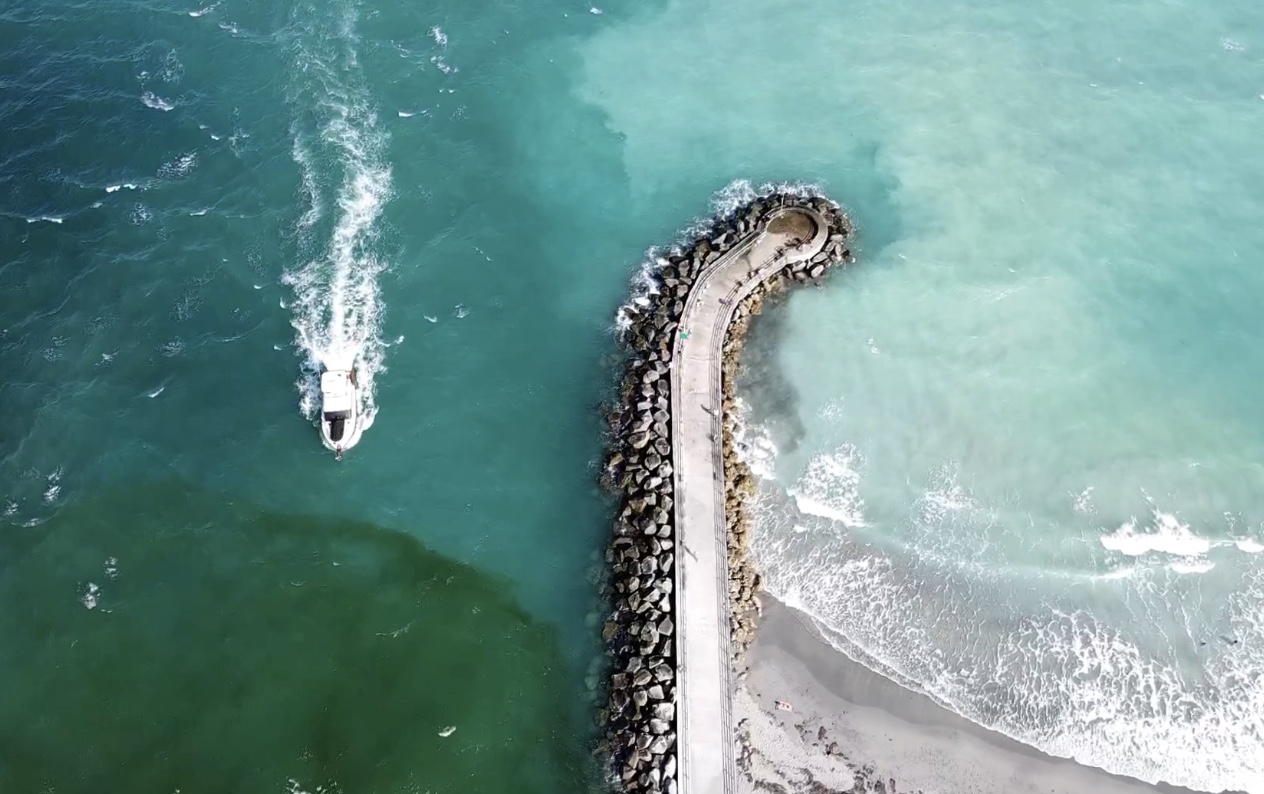 Great for: Water sports, drone shots.
---
Off-leash Dog Beach
There aren't too many places in Florida that let you bring your dog to the beach, but Jupiter is a very dog-friendly community. The dog beach is between beach markers 25-57. You can find dog stands with bags at most of the entrances and several showers that are helpful so you don't have to bring a sandy dog into the car (only a sopping wet one).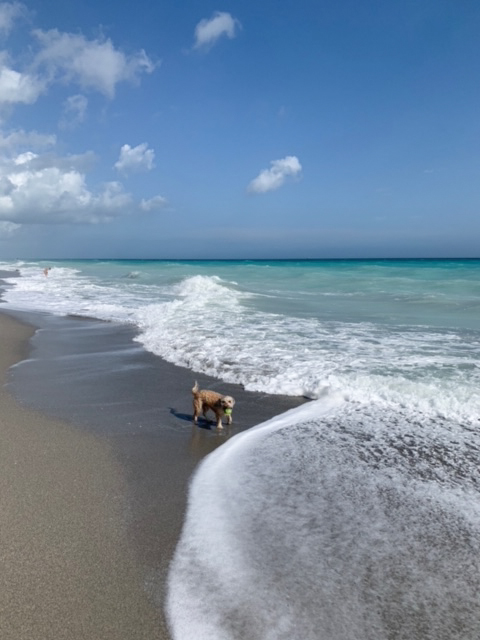 When we first brought Rocky to the beach as a puppy, he was a loose canon. We went early in the morning so it wouldn't be as busy, but there just happened to be a yoga class of about 10 people on the beach. Their towels were all laid out on the sand and they were doing their deep breathing poses and Rocky just BOLTED. Right for the towels. He scampered across all 10 of them, kicking up sand all around, and jumped up to lick at least 2 people in the face. We were shouting apologies over our shoulders as we chased him down the beach.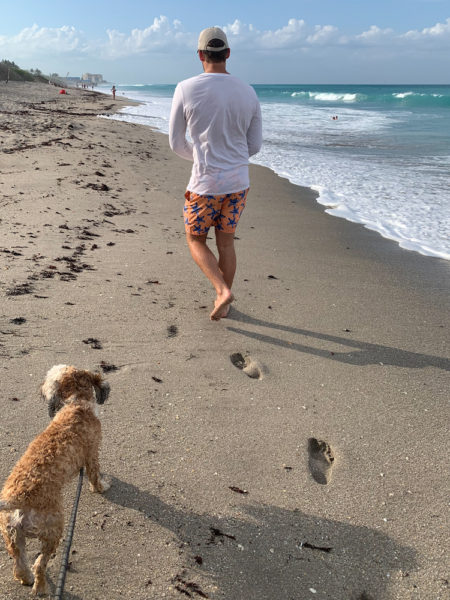 He is SO much better now and we use a tennis ball to keep him close. But if you're wondering if dogs come up to you on the beach, the answer is yes. Yes, they do. Ours is not the only one that gets uber excited about the beach and his newfound freedom either. If you go to the dog beach to lay out and relax, you will most likely find a dog wandering over at some point to say hello.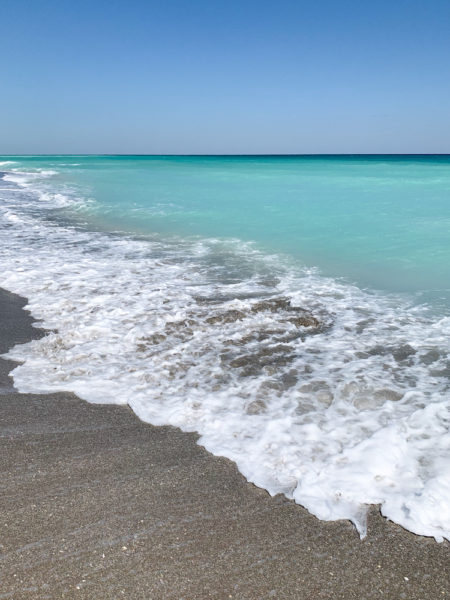 If you're not fond of dogs, I get it. I love my fur child but I don't necessarily love other people's fur children. If it's not for you, simply head north or south of the designated dog area.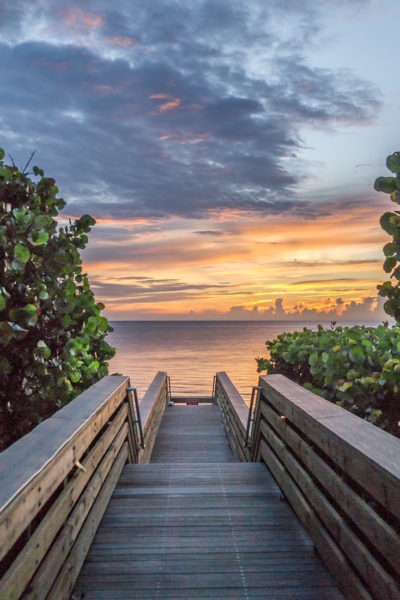 This part of the beach (and down by the pier) has great boardwalks through green shrubbery. And yes, because we are on the east coast and the ocean side, we get beach sunrises! It's probably one of my most visited beaches in Jupiter, Florida (mostly so I can bring Rocky).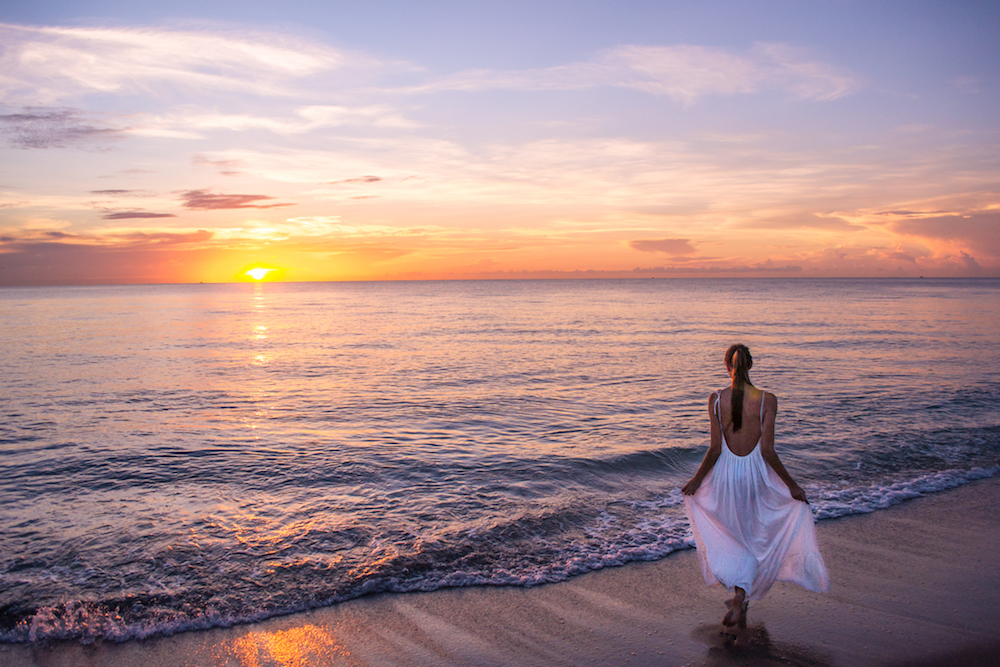 This beach is also not very wide, can have lots of shells and seaweed, and lots of kite surfers when the weather is windy!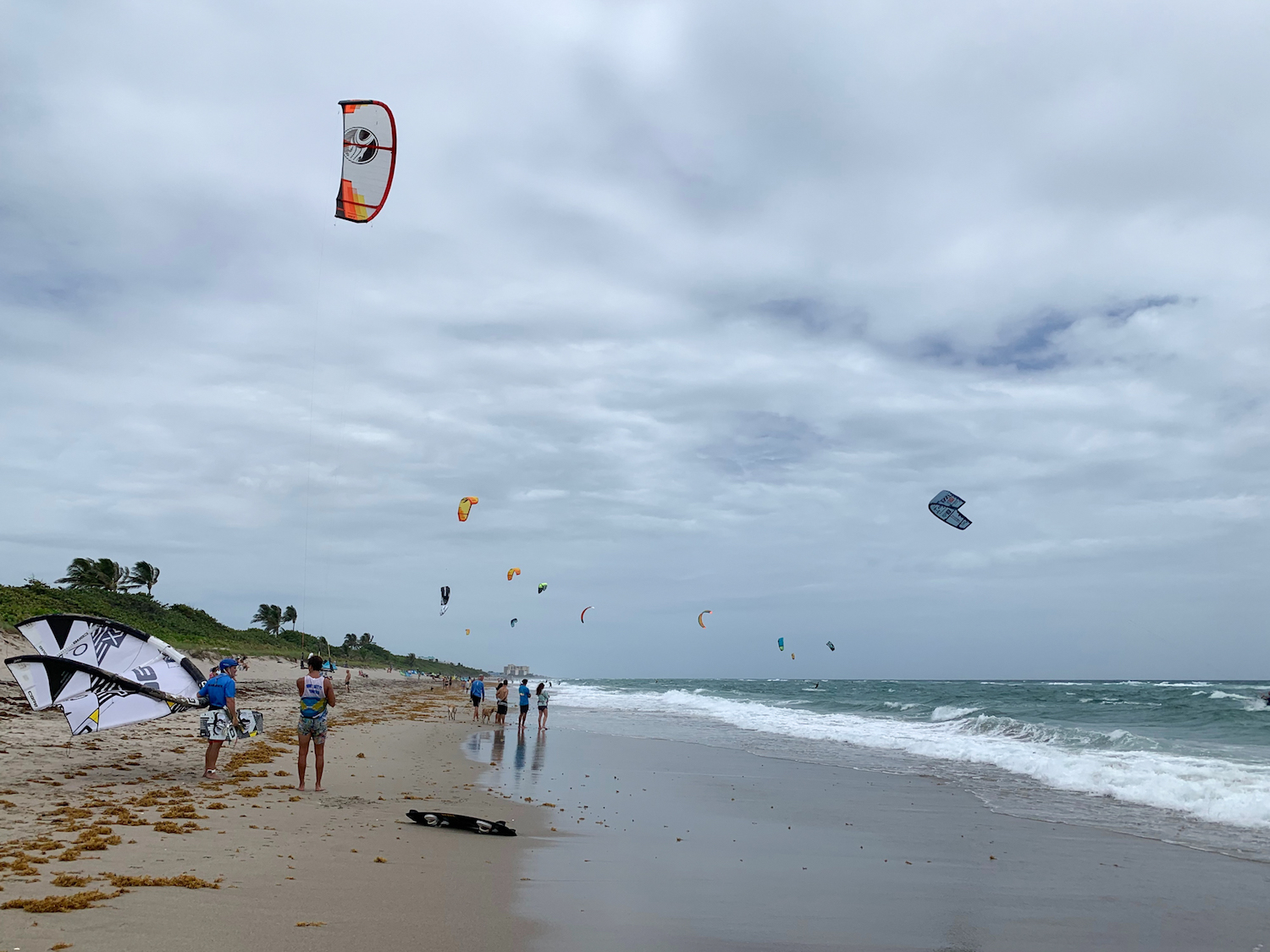 Great for: People with dogs, people who don't mind dogs, surfers, kite surfers.
---
Carlin Park
Carlin Park is north of the pier and the dog beach. It actually is a fairly large park and consists of a grassy park area too on the other side of the road. People can walk around on trails, play sports and have picnics. On the other side is access to the beach and a little restaurant called the Lazy Loggerhead Cafe (It only serves breakfast and lunch, and closes by 2:30!)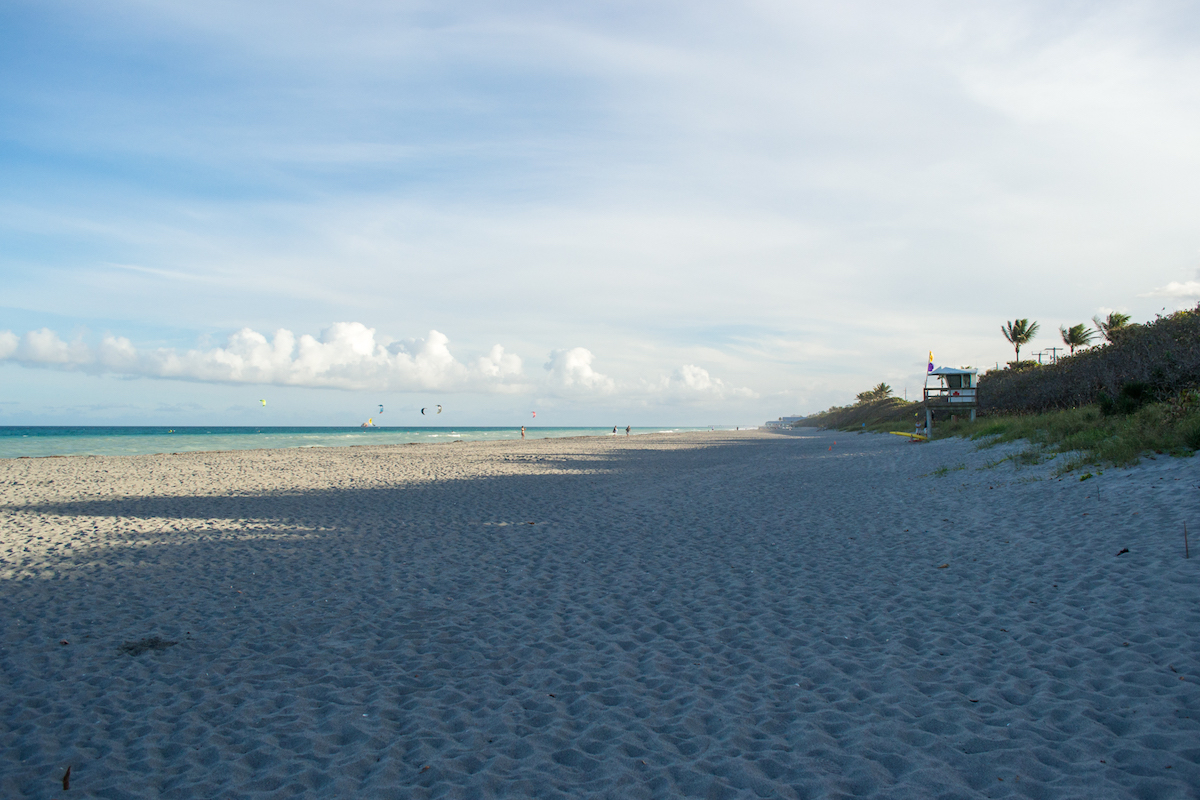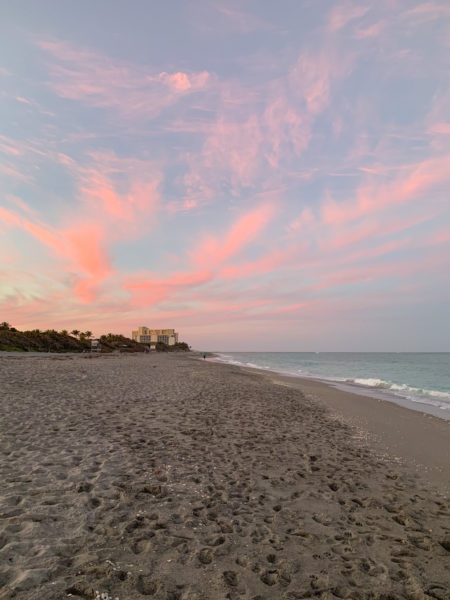 This area probably has the largest sand area and is a good spot if you want more room to spread out. It also is lined with picnic tables so you can have lunch or gatherings outside.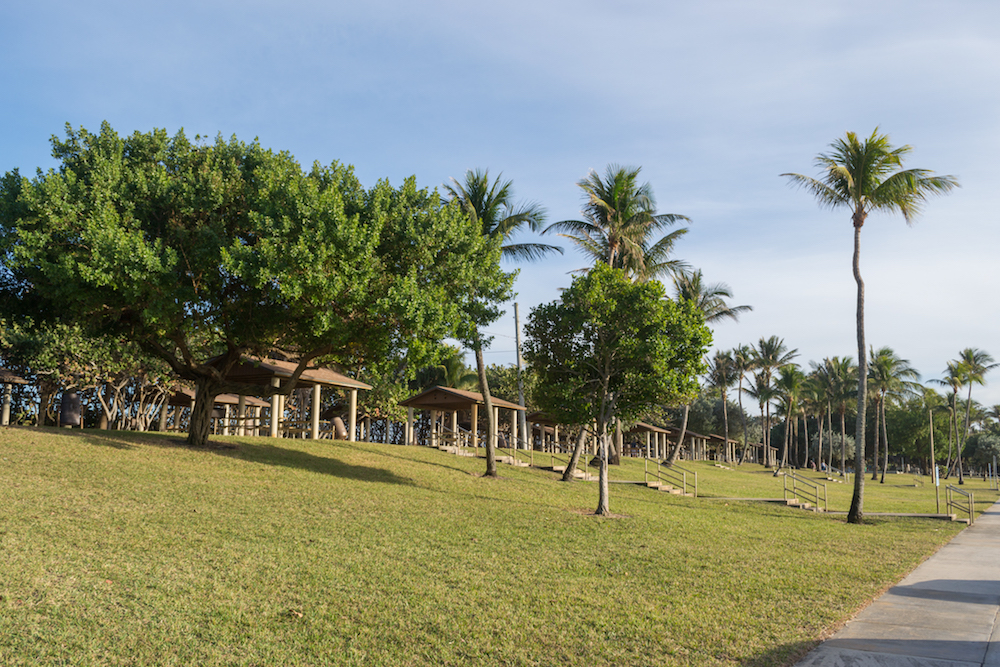 Great for: large groups or gatherings, picnics, people who want a bit more space.
---
Coral Cove
Probably one of the most interesting beaches in Jupiter, Florida is Coral Cove. The beach area isn't too wide but it has interesting rock formations near the shore. It looks very otherworldly and it's a great spot for photos.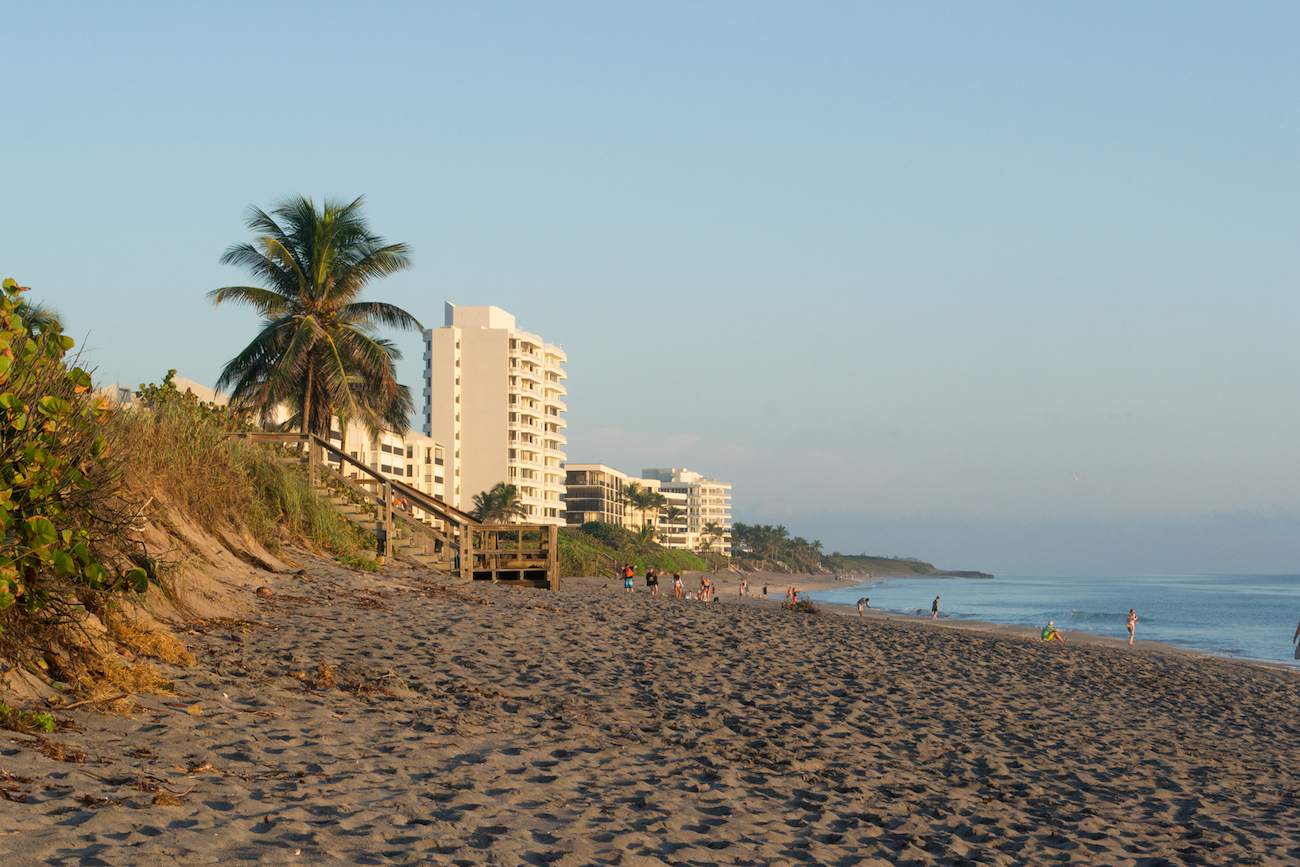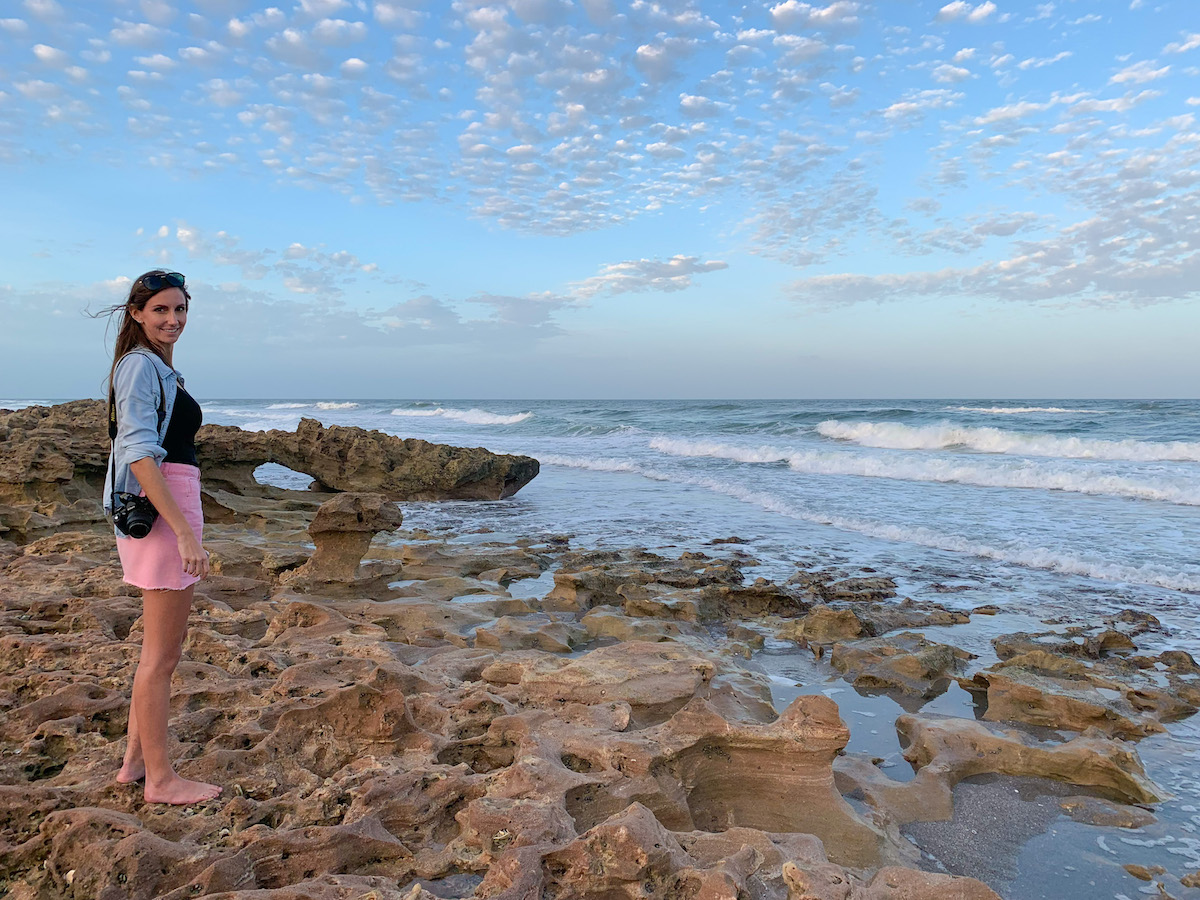 Beware when walking near the rocks. Some of them are hidden in the sand and literally everyone I've taken has stumbled over one or stubbed their toes (including myself).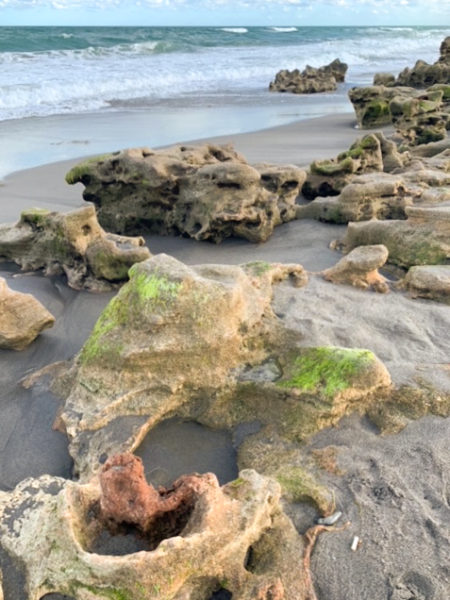 Another cool place nearby is the Blowing Rocks Preserve. Technically it's in Hobe Sound but is just a littler further past Coral Cove. The rocks at the preserve are much more dramatic and create a sort of ledge that waves blow up against.
Great for: sunrises, photography, exploration.
---
Dubois Park
Along the Jupiter Inlet is where you'll find Dubois Park. It's more of a 'beach area' rather than a beach, but still a fun place to go and walk around. They have designated swimming areas that are blocked off or further from the inlet so the water is pretty still. It's a good area to go if you have kids and don't want big waves or deep water.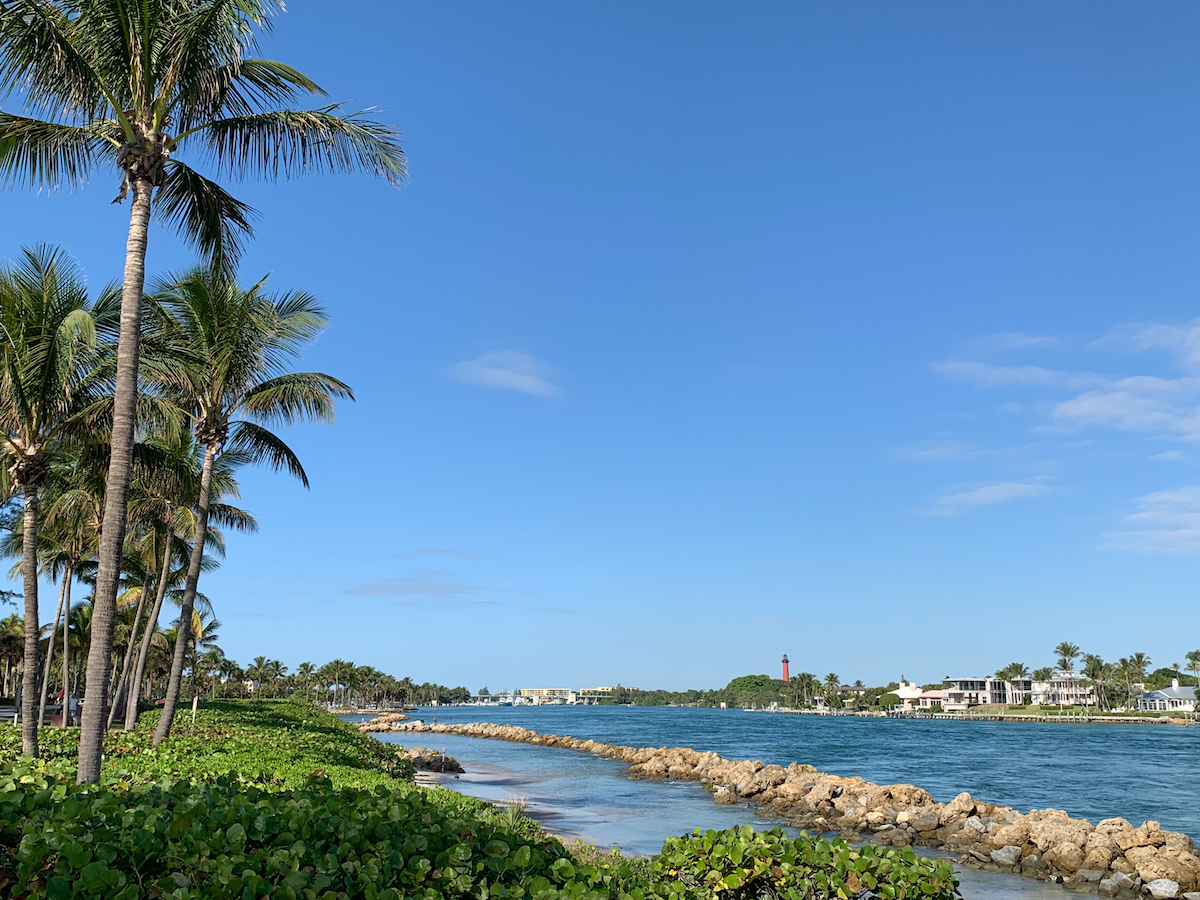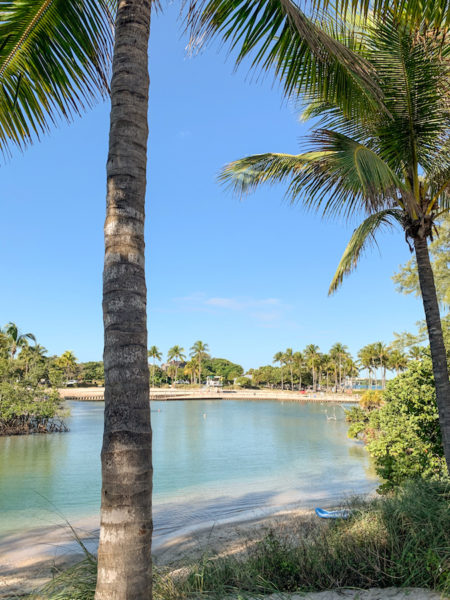 There are lots of palm trees and picnic tables and it's a cute area to just walk around. There's a bit of information on plaques about how the Jupiter Inlet is notorious for shipwrecks. You'll also find an old anchor on display.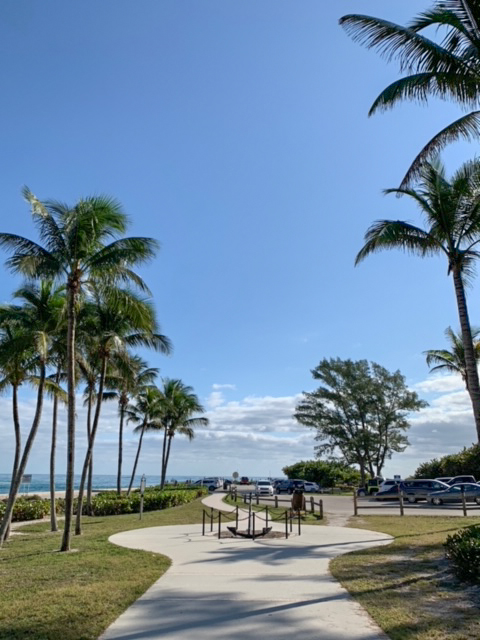 You can also see the Jupiter lighthouse across the way. And if you walk towards the ocean, you'll end up at the fishing pier near Jupiter Beach Park.
Great for: families, kids, picnics, walks
---
Bonus: Juno Beach Pier
Just south of Dog Beach in Jupiter is the Juno Beach pier. The dog area ends a few beach entrances before the pier and it's technically Juno Beach, not Jupiter. But since they run into each other and you can see the pier from the Dog Beach, it's worth mentioning.
There's a large parking lot just across the street from the pier with bathrooms and outdoor showers. It's a fantastic spot for sunrise photos. It cost $1 to go onto the pier to take in the view (it's a few extra dollars if you plan on fishing).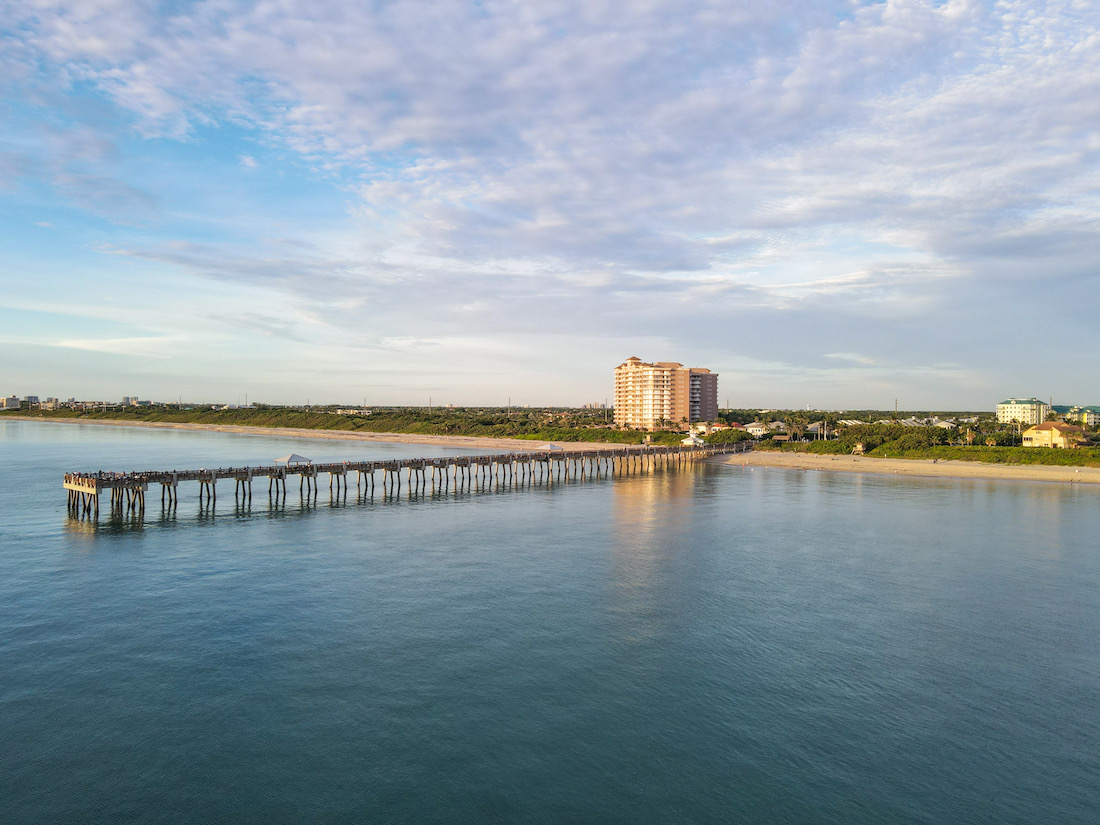 Great for: Fishing, photography, sunrises, views.
---
One more thing to note is the parking situations. Most all of these have sufficient parking and large lots. There's parallel parking along the beach road in front of the Dog Beach or a large lot across from the pier. There are large lots everywhere (except maybe at Coral Cove, though we've never had a problem) and parking is free!
All of the beaches in Jupiter, Florida are great and worth going to. Do I have a favorite? We tend to go to the Dog Beach the most simple so we can get our dog some exercise. I also love the beach road that goes along it. It's easy and convenient and I love the boardwalks. Dubois Park is somewhere we walk around a lot and Coral Cove is a place I always take visitors. Really, you can't go wrong with any of them, because the beach is the beach, right??
Citation: